TARGUS has received several awards for exemplary project work in the past two years. For good reasons.
Case Study: Even if your own production is geared for efficiency, the entire supply chain must still be monitored at all times. To avoid production downtime due to a supply disruption, it is necessary to react immediately to the earliest problem signals from throughout the supply chain. TARGUS has actively supported a global engine manufacturer in identifying and targetedly securing "shaky" suppliers and deliveries at an early stage for its highly complex range of parts.
The lack of even just one component almost inevitably means that a finished product cannot be produced on time. Depending on the buffer time, the delivery date often can no longer be met – with the result of additional costs and possibly customer penalties. In this case, the dedicated assembly station would have been completely shut down due to supply disruptions had it not been for the project team's intervention.
From our own project experience the situation described above particularly impacts companies that produce their products with high levels of customization and small volumes. Managing a supply chain with up to several hundred suppliers is a highly complex task. Complete monitoring of all suppliers is simply not possible.
The goal was therefore agreed upon with the client to question the existing supplier management systems and to selectively expand and adapt them. Critical supplier-related events should be identified at an early stage and quickly eliminated with consistency.
Customer-specific, multi-stage approach
Four levers were employed, all of which were implemented within the project timeframe:
Definition of critical event markers and associated mechanisms with clear mitigation responsibilities (e.g. creation of a task force in the event of production-threatening situations),
Development of a "supplier radar" as a central tool for the transparent merging of all critical supplier-related topics from purchasing, scheduling, and production for the purpose of monitoring and tracking mitigation actions,
Establishing a routine for interdisciplinary coordination between impacted departments,
Integration of this routine into existing control loops by means of a corresponding reporting framework as well as the definition of communication and escalation mechanisms.
Rapid reduction of incidents
The result after testing and establishing this procedure is impressive: Thanks to increased transparency and the immediate reaction to critical supplier issues, the events with negative impacts on production were reduced by about half after a short time.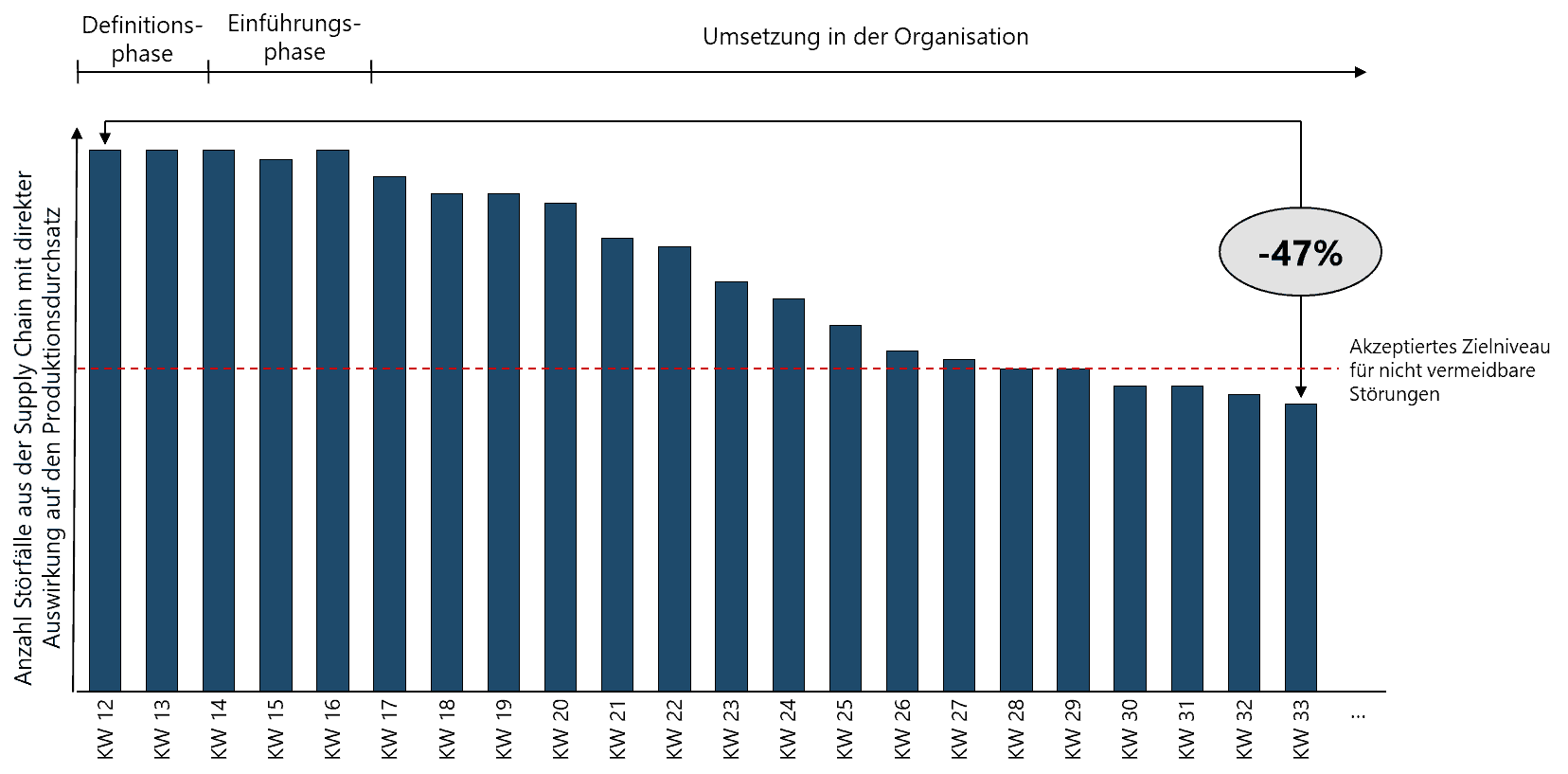 This is due to two main reasons:
Early reactions do not allow the majority of the incidents become critical.
Fast reaction to potential incidents via defined mechanisms swiftly progresses to necessary countermeasures. This avoids impact on production. In an extreme case, an on-site task force was able to stabilize a critical supplier within a short time and ensure delivery capability.
A key success factor in this project was the interdisciplinary exchange between departments. This type of cooperation and focus on a common goal, which was practiced from the start, quickly led to a pragmatic and accepted solution that is still actively practiced in the company today.
Technical experts with industrial experience
At TARGUS, implementation is part of our DNA: Targonauts are not content with creating clever charts and presentations or just making recommendations to management. Together with the customer, they also implement the ideas and improvement concepts in the factory walls – if necessary, on site at their suppliers – until everything works according to plan.
This ability requires technical understanding and practical experience from the consultants. As a result, most Targonauts have a degree in natural sciences or engineering, and many have significant professional experience as line managers in industry, for example as plant managers, before becoming consultants. We understand better than others where plans can fail and we ensure success in terms of concept, planning, and implementation.
Social skills for coaching support
Doers are in demand, i.e. people who are passionate about actively implementing concepts together with customers, who have an eye for the essential and who get down to business quickly without leaving the rest of the team behind. The Targonauts are seen as "helpers" (customer quote) on the project.
In the case described above, the project and practical experience of the TARGUS consultants played an essential role. They were not only involved in the analysis phase but developed a detailed roadmap for implementation together with client management, consisting of tangible measures with clear responsibilities and binding deadlines. They also operated as part of the implementation team and set the pace for the entire organization. In this specific case, when the need arose, they were also part of the implementation task force on site at the supplier. TARGUS Case Study