In a crisis, the behavior and performance of partners in the supply chain can change drastically. Often, suppliers who were solid, now present substantial risk.
Approaches like TARGUS's Supply Chain Stress Test are used to quickly identify supply chain risks and bottlenecks through evaluating scenarios for different market developments.
Change in Supply Chains and Market Demand in Exceptional Circumstances
Now, it is particularly important to react quickly and soundly to changing conditions in your supply chain. In doing so, your supply chains can be secured even in changing market situations.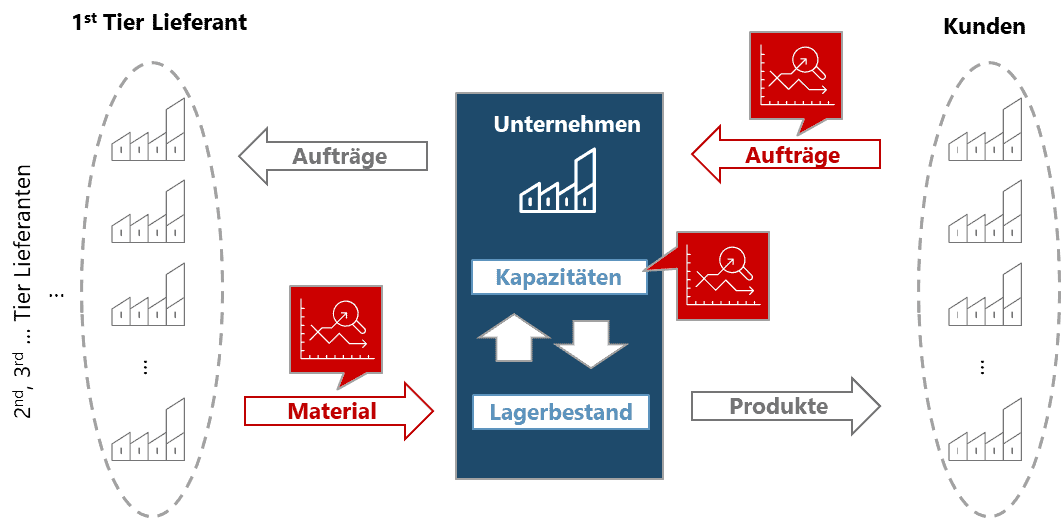 Essential Parts of Your Supply Chain to Consider:
Your market: Market requirements change due to shutdowns or new needs. They differ by industry, product, or application. All can be overshadowed by uncertain market ramp-ups.
Your suppliers: Established supply chains are disrupted, leading to significant delays or
even failure to deliver materials.
Your company: Changing market requirements and supply chains must be taken into account for internal logistics and production, requiring careful adjustment of production capacities, schedules, and inventories.
As part of any supply chain stress test, these areas must be systematically analyzed against potential scenarios, and appropriate countermeasures must be developed to secure a competitive edge.
TARGUS Supply Chain Stress Test
The supply chain stress test is designed so that priorities can be identified and concrete measures can be derived in the shortest possible time. It focuses on crisis-related changes and is not a classic supply chain screening.

The stress test utilizes data that is generally available in your company. This includes information about customers and suppliers (e.g. location, industry, material/product groups) as well as the company itself (e.g. production plan, personnel capacity planning, master BOM, stock levels, and planned deliveries).
While conducting scenario analysis, the effects of different market ramp-ups on the current product portfolio and supply chains are to be examined based on hypotheses. The result is an assessment of producible and marketable products with concrete recommendations on actions to take to respond to the crisis.
The supply chain stress test is designed to be carried out remotely even under the current COVID-19 restrictions. COVID-19